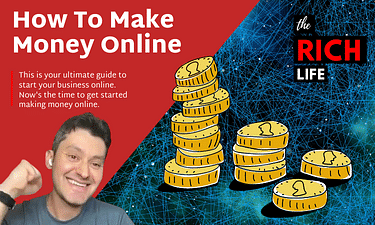 This year hasn't been too kind to businesses, or bank accounts, for that matter.
In this post, we're going to talk about how you can start an online business to make money online in 2021.
Disclaimer: Please note, this article includes affiliate links which may provide me a commission. All recommended products were independently selected by me. I hope you love these products and they help you achieve your goals.
Table of Contents
4. Choose Marketing Strategies
1. Make a Plan
No one gets rich from taking wild stabs in the dark (at least, we hope not!)
In order to make money in the upcoming year, you first need a rough idea of what you are hoping to accomplish.
Consider these questions to help you get started:
What kind of business do you want to start?
Before you can start your business, you have to establish the kind of business you want.
Obvious, right? Just because something is obvious, however, doesn't mean it's straightforward.
There has to be a balance been your passions and your area of expertise, or else you might find yourself stuck in an industry you don't really enjoy.
Or, maybe even worse, you might find your passions lead you to a dead end and financial drain.
What's your niche within that industry?
To prevent financial catastrophe (we don't want another 2020 repeat here, do we?), you'll need to brainstorm and discover your niche.
Make a list of keywords and phrases that come to mind when you think about your interests.
This can help you get an idea of the area in which you want to hone in on.
What are your goals?
Establishing your goals can help you navigate your business ideas and further define your overall plan.
Take into account both short-term and long-term goals, even if things feel uncertain, as your plans are bound to change as you make progress with your business strategy.
What are you naturally good at?
What have others always said to you "wow, you're great at X you could make money with that"?
It's always a good idea to take feedback from strangers and use that information to help identify your strengths or skills you can use to get paid for.
Now remember, not everyone will pay you for your skills or service.. unless it's valuable to the marketplace.
It must be valuable to the marketplace in order for you to sell it. If nobody wants what you're selling then you're not going to make any money.
2. Research Your Market
Now it's time to do your research. Look back at your list of key words, and then search Google for each phrase to see how popular they are.
Pick the most popular phrases from the list and then research the market to see if the area is trending upwards or downwards.
You can use tools like Google Trends to help you determine a keyword's popularity.
You don't want to pick a niche that has fallen out of good favor thanks to 2020.
Even though some markets will inevitably bounce back, such as the event industry, 2020 has definitely put it, and many other markets, on the naughty list this year.
It's unlikely some industries will come off the list for some time, due to the unpredictability of the coronavirus, so stick to a market that is trending upwards in response to the pandemic.
A few examples are:
Online retailers

E-learning and training

Video streaming services
3. Find Your Target Audience
Avid private investigators, it's time to put your stalking skills to use!
After you've found your niche, you're going to need to investigate your target audience to find out how to cater to their interests.
For example, you wouldn't want to create a brand fit for children's toys if you're marketing manufacturing equipment for men.
Knowing your audience matters.
Consider demographics such as age, gender, location, religious views, political views, and mutual interests when developing your brand so that you can effectively reach your audience.
4. Choose Marketing Strategies
Now that you're no longer accidentally selling children's items to grown men, you're ready to choose your marketing strategies.
How are you going to effectively market your product?
Below are a few marketing strategies for a wide range of industries:
Sell goods or services online.

Invest in good digital marketing, including branding, copywriting, and advertising.

Use blogs and affiliate marketing.
Generally speaking, these areas are all potential avenues for making sales through your business.
Depending on which industry you're in, your method will vary.
For example, if you're in the tech industry, you will probably want to focus on goods or services and the digital marketing that will reach your audience.
If you're using your looks to sell beauty products, on the other hand, now's not the time to be modest.
Blogging and becoming an affiliate can be highly effective marketing strategies that don't require an actual product or service.
Do you need the best site for marketing graphics? Use Canva and get a 30-day free trial.
5. Pick an Online Platform
You've solidified your strategy, and now it's time to make your visions a reality!
To do this, you need to choose an online platform.
Here are a few online business ideas that can help turn your ideas into a source of income:
Amazon Sellers
Amazon isn't just for the perks of a Prime membership, though that 2-day shipping is pretty great.
Did you know that over half of Amazon's items are sold from independent businesses just like yours?
Selling on Amazon is a great way to get your e-commerce business going in 2021, though they do take a hefty fee.
Shopify Stores
If you're hoping to avoid high fees, Shopify makes it easy to display your products and services on your website.
If you already have a brick-and-mortar business, Shopify is a great way to switch to an online platform for the upcoming year.
Affiliate Marketing
Don't have a product or service? No problem!
Affiliate marketing allows you to make a profit from redirecting your audience to other peoples' businesses, giving you a nice commission.
There are plenty of affiliate programs you can sign up on, such as ShareASale and CJ Affiliates.
Freelance Sites
If you plan on being an independent contractor, there are numerous freelance sites you can use to find clients and start making money in 2021.
Fiverr and Upwork are the most popular websites for freelance jobs.
If you need invoicing and accounting made simple, you can get started with FreshBooks for free.
Conclusion
While 2020 has been a big bully to many businesses, we've been in it long enough to start seeing trends of industries that came out on top during the pandemic. This actually makes it a great time to start a new business and make money online in 2021!
This post was written by Rich Tavetian
Rich Tavetian is host of The Rich Life Podcast.You can find him on Instagram and Twitter He answers every Instagram DM, come say hello!